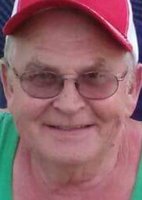 Wayne R. Jones
Wayne R. Jones, 68, of Earlville passed away peacefully at home, with his family by his side on August 7, 2017 after a short battle with lung cancer.

He was born on December 4, 1948, a son of the late Howard and Alice Jones of Morrisville. Wayne retired from dairy farming on the homestead farm in 1996 and later retired as a carpenter. He was a self-taught jack-of-all trades and built many buildings, including his own home in 2001. Wayne loved his family and always provided for them by building, processing deer, making sourkraut and maple syrup.

Wayne is survived by his wife of 43 years, Ruth A. (Rhoades) Jones; his children, Wayne Charles Jones and Sue Ellen Jones; two grandsons, Kyle and Jordan Palmer; his siblings, Ed (Erma), Dale (Shawn), Clara, Monica, and Duane as well as several nieces and nephews.
Wayne was predeceased by his son, David R. Jones; a sister, Ruby B. Pfohl and a brother, Leonard Jones.

Funeral services will be held 4 p.m. Sunday, August 13, 2017 at the Pompey Community Church with a light reception to follow in the church fellowship hall. Calling hours are 2 to 4 p.m. Sunday in the church prior to the funeral service. In lieu of flowers, contributions in memory of Mr. Jones may be made to the Pompey Community Church, 2555 Berwyn Rd., Lafayette, NY 13084. Wayne loved all and was loved by all. He will be laid to rest in Hillcrest Cemetery in DeRuyter.