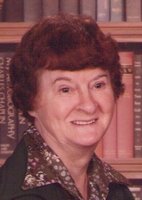 Marian York
Marian Burdin York, 100, of Cazenovia, passed away peacefully Friday evening at Crouse Community Center in Morrisville. She was born in Cazenovia, a daughter to the late George H. and Mary Burdin and was a life resident of Cazenovia. Marian was a gourmet cook for the Oakman family, Lake family and also a pastry chef at the Lincklaen House. Marian was a member of the Baptist Church for over 70 years serving as a Deacon and head usher. She was a volunteer for many organizations including the following: the Rescue Mission, Samaritan Center, Cazenovia Public Library, Blood Bank, The Key, Sleeping Bags for the Homeless, the Garritt Smith Infirmary and the SNACK program. Marian was also a bell ringer for the Salvation Army and served as Chaplain of the Rebekahs Lodge. Marian sold daffodils for the American Cancer Society and earned the title "Senior of the Year" in 1985. Her favorite pastimes were embroidery and cooking.

She was predeceased by her first husband, Lawrence Osborne and by her second husband, Lester York. Marian is survived by several nieces and nephews.

There are no calling hours. Graveside services will be held at 1 p.m. Tuesday, September 12, 2017 at Evergreen Cemetery in Cazenovia. Contributions in memory of Mrs. York may be made to CAVAC, P.O. Box 56, Cazenovia, NY 13035 or to the Cazenovia Fire Department, 127 Albany St., Cazenovia, NY 13035.