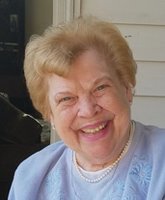 Nettie Galbraith Mancini
Nettie Galbraith Mancini, 86, of New Hartford, formerly of Derwood, Maryland passed away Saturday at home. She was very proud of her heritage being a native of Honolulu, Hawaii and becoming a U.S. citizen in 1959. Nettie was one of five children of the late Antoinette Marie Johnson Galbraith and William Galbraith. She earned her Bachelor's degree with certifications in primary and secondary education from Pacific Lutheran University in Tacoma, Washington. A convert to Catholicism as a young adult, she served as an educator until the age of 79 at Catholic schools in the Washington D.C. area. Upon her retirement in 2010, she continued teaching part time and tutoring students with special needs. Nettie was a member of St. John Neumann Catholic Church in Gaithersburg, MD. She enjoyed spending time with her family, gardening, reading, church activities, prayer, and assisting children at school.

In addition to her parents, she was predeceased by her husband, John Joseph Mancini in 2005; her brothers, Hugh, Stanley and Douglas Galbraith and by a sister, Ruth Silen.

Nettie is survived by her children, Dr. Thomas J. (wife Janet) Mancini of Leesburg, VA, David C. Esq. (wife Jeanne) Mancini, of Vienna, VA, Paul J. (wife Deborah) Mancini of Richmond, VA and Kathleen M., Esq. (husband Dr. Steven Williams) Williams of Cazenovia; 16 grandchildren, Luke, Hope, Joy, Erin, Nathan, Kyle, Ric, Kent, Gareth, Ainsleigh, Steven, Emily, John, Teddy, Mary and Katie.

A prayer service will be held at 10 a.m., Wednesday, September 13, 2017 at Michael E. Brown Funeral Services followed by a Mass of Christian Burial to be held at 10:30 a.m. at St. James Church, 6 Green St., Cazenovia. Calling hours are on Tuesday, September 12 from 4 to 6 p.m.at the funeral home, 2333 Fenner Rd., Cazenovia. Contributions in memory of Mrs. Mancini may be made to the National Shrine of Grotto of Our Lady of Lourdes, Emittsburg, MD https://web4ucorp.com/forms/forms/view.php?id=343541 or EWTN Catholic TV http://www.ewtn.com/donation-wyd-coverage/index.asp.