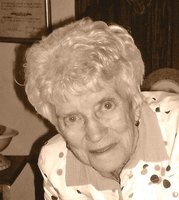 Sonia J. Sweetland
Sonia J. Sweetland, 90, of Fabius, passed away peacefully Saturday, September 9, 2017. Sonia spent her early years in Cazenovia and graduated from Cazenovia High School in 1944. She married S. Albert Sweetland in 1947 and together they owned and operated Sweetland Farms in Fabius. Sonia retired as a secretary at Fabius-Pompey High School where she was employed for 28 years. She was a member of the Red Hat Society and a member of the former Fabius Methodist Church. Sonia was an avid seamstress, enjoyed line dancing, SU basketball and spending winters in Florida. Proud of her Welsh heritage, in 2007, she published her extensive genealogy research for her family.
She was predeceased by her husband S. Albert Sweetland and by her sister, Dona Crenan. Sonia is survived by her children, Dale (Susan) Sweetland of Fabius, Susan Fulmer of Fayetteville and Lynne (Douglas) Brandi of Tempe, AZ; her brother, Harlan (Margaret) Jones of Cazenovia; six grandchildren, Karen (John) Hayes, Daniel (Jennifer) Sweetland, Patricia (Thomas) Krieger, Stephen Brandi, Stephanie (Benjamin) Lovell and David (James Padgett) Brandi; five great grandchildren as well as several nieces and nephews. The Sweetland family would like to express their gratitude to the staff of Cortland Park Rehabilitation and Nursing Center for the excellent care provided to their mother.
Calling hours are 12 to 2 p.m., Sunday, September 24, 2017 with a service to follow at Michael E. Brown Funeral Services, 2333 Fenner Rd., Cazenovia. Burial will be in the Welsh Church Cemetery. Contributions in memory of Mrs. Sweetland may be made to the Union Cemetery of the Town of Nelson, Inc., A.K.A. Welsh Church Cemetery, c/o Tom Davies, P.O. Box 584, Cazenovia, NY 13035 or to the Fabius Fire Department, P.O. Box 60, Fabius, NY 13063.