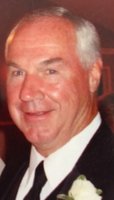 William "Bill" McDowell
William "Bill" McDowell born May 9, 1943 died September 13, 2017 after a courageous battle with cancer. Bill is survived by his wife of 48 years, Anne and four children; Kathleen Hughes, James (Ellen) McDowell, Mary (Sean) O'Malley, and Matthew (Sarah) McDowell and 10 grandchildren, all of whom live in the Cazenovia area. Bill was predeceased by his parents, James and Marian, and by his brother, James B. McDowell.

Bill was a proud member of the United States Marine Corps Reserve. Upon his retirement after 31 years of service with New York Telephone/NYNEX, Bill established The McDowell Insurance Agency, which is now operated by his son, Matthew.

Bill will always be remembered by his family and friends as a dedicated family man, loving husband and father. He was known for his strong character, his quick wit and his unmatched work ethic. Bill's contagious laugh will be greatly missed by all who knew him. Bill and his family enjoyed boating on Cazenovia Lake as well as his time on the golf course and a challenging game of tennis
.
A celebration of Bill's life will be held with a Mass of Christian Burial to be celebrated at 10:30 a.m., Saturday, September 16, 2017 at St. James Church, 6 Green Street in Cazenovia. Burial will be in St. James Cemetery. Calling hours are 4 to 7 p.m., Friday at Michael E. Brown Funeral Services, 2333 Fenner Rd., Cazenovia.