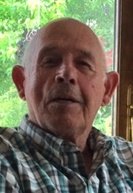 Marvin "Din" Richards
Marvin "Din" Richards, 77, of Fenner, passed away Saturday morning at his home. He was born in Syracuse, son of the late Whitney W. and Catherine G. Richards. Din who was raised in Nelson and graduated from Cazenovia High School in 1957, was a lifelong dairyman having owned and operated Marvrich Farms in Fenner until his retirement in 2010. He was a member of both the Holstein Association USA and the New York Holstein Association. Marvin enjoyed spending time on his family farm and took great pride in attending his grandchildren's sporting events.

In addition to his parents, Marvin was predeceased by two sisters, Patricia Ceigler and Vilma Ramage and his brother, Whitney William "Bill" Richards.

Marvin is survived by his wife of 57 years, Jacquelyn Richards; two daughters, Terri (William) Fredericks of Cazenovia and Tina Dorrance of Morrisville; his brother, Robert Richards of Fenner; his sister, Kay Mansfield of Maine; four grandchildren, Chad, Clay, Kayla and Kelsi as well as several nieces and nephews.

At Marvin's request, there are no calling hours and funeral services will be private. In lieu of flowers, contributions in his memory may be made to the Cazenovia-Nelson United Methodist Church, 23 Lincklaen St., Cazenovia, NY 13035.