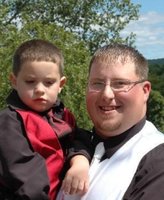 Brian P. Kelly
Brian Phillip Kelly, born March 21, 1983 had his big heart give out unexpectedly on Saturday, September 16, 2017. He was an exceptionally kind and loving person with a genuine caring smile. Brian had a passion for football, as he played with one of the best teams Newfield has ever seen. He gave of himself by coaching and mentoring kids helping them to play the game well. One of Brian's greatest joys were his dogs, Winnie and Nellie, who went with him everywhere.
Brian is survived by his parents, Phillip "Bumpie" and Penny Kelly; his sister, Heather (Ryan) Babcock; his brother, Dustin (Heather) Jenney; his grandmothers, Sharon Kelly and Mary Thomas; his wife, Hilary; his dogs, Winnie and Nellie, many aunts and uncles, including Jennifer and Rick Pawlewicz, cousins, nieces, his special nephews, Patrick Bradish and Dustin Kelly as well as several dear friends. Brian has joined his Poppy, Phil Kelly who was previously united with our Lord.
Calling hours will be held from 4 to 6 p.m. Thursday, September 21, 2017 with a service and reception to follow at the West Danby Church, 2219 West Danby Road in West Danby, NY. In lieu of flowers, donations in Brian's memory may be made to Newfield Youth Football, c/o Tim Payne, 325 Vankirk Rd., Newfield, NY 14867.