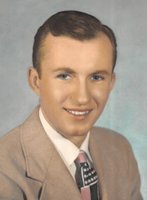 Donald C. Fieser
Donald C. Fieser, 87, of Erieville passed away peacefully Friday at Crouse Community Center in Morrisville. He was born in Nyack, New York, to parents Charles and Wilhelmina Fieser and lived most of his life in the Cazenovia/Erieville area. Donald managed the Cazenovia animal hospital for nearly 30 years, thereafter: he was a self-employed salesman for school bus parts. Don was a bartender at the former Lake Meadow Inn for 22 years. Upon his retirement, he was a part-time bus driver for Town and Gown in Hamilton. Bowling was one of Donald's favorite pastimes.

In addition to his parents, he was predeceased by a daughter, Darlene, who died in 1966; his sister, Muriel Haagensen and by his son-in-law, Don Abbey.

Donald is survived by his wife of 63 years, Helen K. Fieser of Erieville; his two daughters, Deanna Abbey of Canastota and Jennifer (Scott) Barlow of Painesville, OH; his sister, Dorothy (Dan) McCarthy of Port St. Lucie, FL and three grandchildren, Drew, Allyson and Kendra.

Calling hours are 12 to 2 p.m., Saturday, October 14, 2017 with a memorial service to follow at Michael E. Brown Funeral Services, 2333 Fenner Rd, Cazenovia. Burial will be in Evergreen Cemetery, Cazenovia. Contributions in memory of Mr. Fieser may be made to the Alzheimer's Association of Central New York, 441 West Kirkpatrick St., Syracuse, NY 13204.