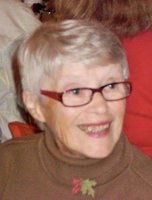 Nancy Zeferjahn
Nancy Zeferjahn passed away Friday, September 29, 2017 in Syracuse. She was born April 20, 1933 in Buffalo, New York where she was a resident until her marriage to Russell Zeferjahn in 1956. Nancy worked as an elementary school teacher for several years before starting a family. Their first child, Karen was born in 1959 and their son, James was born in 1962. The family relocated many times until Nancy and Russ settled in Cazenovia in the early 1980's. Sadly Russ died suddenly in 1997 leaving a large hole in her life. Nancy was also predeceased by her son, James Zeferjahn.
Nancy was involved in many activities in Cazenovia, including PEO, the Garden Club, CRIS-CAT and numerous others. She made many close friends through those activities and loved getting together with all of them. Nancy sometimes complained she was over scheduled but she truly cherished every minute spent with her friends.
Nancy owned many Skye Terriers through her life and she always felt like they were part of her family. She enjoyed following the dog shows and being involved with other Skye lovers through Facebook. Her current Skye, Tobe, will miss her dearly.
She is survived by her daughter, Karen Zeferjahn Frenzel of Moscow, Idaho; her five grandchildren, Samantha and Zachary Zeferjahn of Cumming, Georgia, Rachel Frenzel of Phoenix, Arizona, Derek Frenzel of Tacoma, Washington and Ryan Frenzel of Portland, Oregon.
At Nancy's request there will be no services. Donations can be made to Wanderers' Rest Humane Association, P.O. Box 535 Canastota, NY 13032 or to Village Veterinary Hospital, P.C., 230 Genesee St., Canastota, NY 13032-4141.