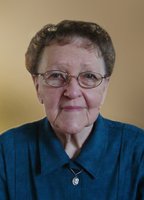 Ann Estelle Patrick
Ann Estelle Patrick (Jakaitis) passed away peacefully on Monday, October 9, 2017. She was born July 26, 1920 in Amsterdam, New York. She married Joseph Patrick in 1944 before relocating to North Merrick, New York.
Ann was a homemaker and a devoted and loving mother to her five children. She was a member of Sacred Heart Church and an active member of the Catholic Daughters of America for the 46 years she remained on Long Island. Her other love was sewing and she was an enthusiastic member of several quilting groups, including the Long Island Quilters Guild. She and her husband retired to Cazenovia, NY in 1990.
She was predeceased by her husband and by her daughter, Joan Patrick. Ann is survived by her children, James Patrick of Cazenovia, Paul Patrick of Syracuse, Richard Patrick of Syracuse and Margaret Patrick-Smith and her husband, Kevin Smith of West Brookfield, MA, by her two grandchildren, Daniel and Kathryn Patrick, and her son in law, David Ritchie.
There are no calling hours. A Mass of Christian Burial will be celebrated at 11 a.m. Friday, October 13, 2017 at St. James Church, 6 Green St., Cazenovia.