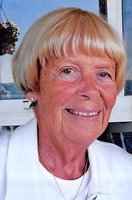 Joanne L. Niebank
Joanne L. Niebank, 84, passed away peacefully Friday evening at Crouse Community Center in Morrisville. She lived most of her life in Lakewood, New York before moving to Cazenovia in 2012. Joanne was known for her quiet grace, her knitting skills and needlework talents. As much as she enjoyed living in Cazenovia, her heart was with her lifelong friends in Lakewood, sitting on the lawn at the Chautauqua Lake Yacht Club.
She is survived by her daughters, Lorie (Leonard) Riedl of Cazenovia and Sarah Niebank of Lakewood and by her granddaughter, Murphy (Paul) Riedl-Zemba of Bridgewater Corners, Vermont. Joanne was predeceased by her parents, Laura and Vernon Leet and her husband, James Niebank.
Joanne's family would like to thank Lisa Dain as well as the caring staff at Crouse Community Center for their kind and compassionate care.
A celebration of Joanne's life will be held in Jamestown, New York at the convenience of her family. In Joanne's memory, do something kind for someone today.