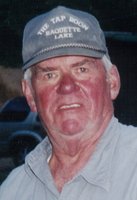 Robert L. Kenyon
Robert L. Kenyon Sr., 81, of Syracuse, New York, passed away Saturday, October 28, 2017 after a courageous battle with cancer. He was an avid fisherman and loved spending as much time as he could at Raquette Lake with his wife Karen.
He is survived by his wife of nearly 30 years, Karen (Freeborn) Kenyon; his children, Sheila Kenyon of East Syracuse, Robert (Suzanne) Kenyon of Lynnfield, MA and Douglas (Tara) Kenyon of Reading, MA; six grandchildren, Sydney, Lindsay, Zachary, Cole, Jasmine and Chase,; his sister, Sondra (Jack) Purcell of Camillus; sisters-in-law, Judy (Terry) Sutherland and Suzann (Randy) Davies as well as several nieces and nephews.
There will be no calling hours, memorial services are private. His family would like to thank the Staff of 4 South at Crouse Hospital for all the care and support given to Robert and his family during his illness. Contributions in memory of Mr. Kenyon may be made to the Raquette Lake Volunteer Fire Department, 171 NY-28, Raquette Lake, NY 13436.