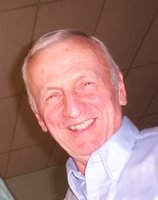 Gerald M. "Gary" Stowell, Sr.
Gerald M. "Gary" Stowell, Sr., 77, of Cazenovia, passed away peacefully at home, surrounded by his loving family. He was born in Syracuse, August 13, 1940 to Ralph and Luella Stowell. Gary attended Cazenovia High School where he met and married the love of his life, Mary Jane Fowler. Among his many accomplishments, Gary took several engineering classes at Syracuse University, owned several businesses, and was an Excavation Contractor, Heavy Equipment and Crane Operator. He also spent four years completing site work for the 1980 Winter Olympic Games and was the Town of Cazenovia Highway Superintendent for 15 years. He was a former member and officer of CAVAC and a member of F&AM Lodge #616 of Cazenovia. He was also an honorary member of the Cazenovia Fire Department and captain of the rescue squad.
Gary is survived by his wife of 55 years, Mary Jane Stowell; their children, Sarah (Rick) Jordan, Gerald (Holly) Stowell, Jr., Gregory (Deborah) Stowell, Benjamin (Jennifer) Stowell and Stacy (John) Gagnon; his sister, Gail (Edward) Kaldowski; his brother, Ralph Stowell; 14 grandchildren; 6 great grandchildren as well as several nieces and nephews. In addition to his parents, Gary was predeceased by his brothers, Clark and Neil Stowell.
Calling hours are 4 to 7 p.m. Thursday, November 2 at Michael E. Brown Funeral Services, 2333 Fenner Rd., Cazenovia. Funeral service will be held at 11 a.m. Friday, November 3, 2017 at the funeral home with burial in Evergreen Cemetery. A celebration of life gathering will held on Friday, following the burial at 12 p.m. in the American Legion Post #88, Cazenovia on Mill St. in Cazenovia.
In lieu of flowers, contributions can be made to St. Jude Children's Research Hospital at www.shop.stjude.org.