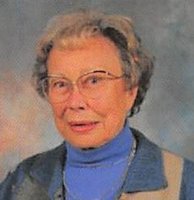 Ann N. Harries
Ann N. Harries of Cazenovia was born April 16, 1919 and died November 22, 2017. Born in Lewistown, Montana, the daughter of Charles August and Olive Guenther Nelson, she grew up in Fargo, North Dakota and graduated from North Dakota State University. Ann enjoyed traveling, gardening, reading and her church. She was a Presbyterian church elder. Her favorite summer days were spent at the family cottage on the east shore of Lake Erie. Ann retired from a career in business and real estate management.
She was predeceased by her brother, DeLaurence Nelson and a great granddaughter, Mina Katherine Griffith. Ann is survived by two daughters, Susan Grills and her husband, Russell of Cazenovia and Julia Griffith and her husband, Gary of Manhattan, KS; one son, William Harries and his wife, Jeanne de Polo of Boulder Creek, CA; five grandchildren, Brian, David, Aaron, Alan and Lauren and five grandchildren all of whom she adored.
A memorial service will be held at 10 a.m., Saturday December 2, 2017 at the First Presbyterian Church of Cazenovia. Contributions in memory of Mrs. Harries may be made to the "Pass-Through Project" at the First Presbyterian Church of Cazenovia, 27 Albany St., Cazenovia, NY 13035.