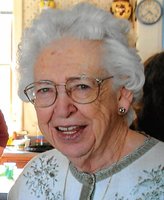 Sara R. Pratt
Sara R. "Sis" Pratt, 96, of New Woodstock, passed away peacefully early Thursday morning at the Grand at Chittenango with her family by her side. Sara was born in Erieville, one of 14 children to the late Robert and Sarah Marris. Sara graduated from Cazenovia Central Schools in 1939 and was married to Norval Pratt in the fall. She was a very caring person and her priority was caring for her siblings and her children. Sara was an active member of the former New Woodstock Methodist Church, the Federated Church of New Woodstock and a member of the Cornell Club of Erieville. She spent many hours helping her husband with his businesses, Pratt's Dairy Farms and Pratt's Manufacturing. Sara was an excellent cook and in her spare time she enjoyed baking, maintaining her home, entertaining family and friends and writing poetry which she willingly shared.
In addition to her parents and siblings, she was preceded in death by her husband, Norval L. "Bud" Pratt, who died January 22, 2001; by a daughter, Colleen Shoemaker, who died March 22, 2007 and by a great granddaughter, Kate Lovejoy, who died June 26, 1997.
Sara is survived by her children, Sharon (Neal) Mosher of Burlington, Ontario, Canada, Sarah (Richard) Insel of Delphi Falls, Shelley (Glenn) Thomas of Hornell, Norval "Chip" (Kathleen) Pratt of New Woodstock and Stephanie (Mark) Randall of Prattsburg; a son-in-law, Alan Shoemaker of Oneida; 13 grandchildren and 11 great grandchildren.
Funeral services will be held 11 a.m. Saturday, December 9, 2017 at the Federated Church of New Woodstock, 2065 Main St., New Woodstock with burial to follow in New Woodstock Cemetery. Calling hours are 3 to 7 p.m., Friday, December 8 at Michael E. Brown Funeral Services, 2333 Fenner Rd., Cazenovia. Contributions in memory of Mrs. Pratt may be made to the Federated Church of New Woodstock, P.O. Box 409, New Woodstock, NY 13122 or to CAVAC, P.O. Box 56, Cazenovia, NY 13035.