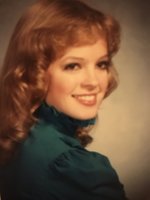 Maureen "Mo" Murphy
~~Maureen "Mo" Murphy, 52, of Fayetteville, New York finished a year-long battle with cancer on Thursday November 30, 2017. She lives on in heaven, where she plans to finally enjoy a donut.
Maureen leaves behind Dennis, her devoted husband of 27 years; her cherished children, Emma Lingo and husband Rob; Ellen Murphy, and Finn Murphy; two adorable grandchildren; her honored parents Ernest and RoseMarie Perkins, sisters Joanne, Debbie, Patti, and Donna; many beloved nieces and nephews; and her favorite three-legged dog, Hobee.
Born in Syracuse, New York on May 26, 1965, Maureen and her family moved to a beautiful spot just outside of Cazenovia in her early years, where she enjoyed climbing trees and raising chickens. By the time she graduated from Cazenovia High School in the class of 1983, she was the cutest cheerleader imaginable and was dating the captain of the football team.
Despite this, she never considered herself one of the "popular" girls, and thought of herself as a shy person. She decided to stretch herself, and applied to be an RA at SUNY Oswego, where she developed some of her characteristic independence and tenacity. She graduated in the class of 1987 with a bachelor's degree in English Writing Arts. "What can you do with an English Degree?" she asked career services. "Anything," they said.
So with bills to pay, she interviewed for a waitressing job at Park Circle restaurant back in Syracuse. Dennis, who was working there, was struck by her beauty and asked them to "hire her for me." The rest is history.
Maureen had a gift for bringing people together from the unlikeliest places. She shared her warmth and drive with those who knew her thru Dewitt Community Church, Crafts & Cocktails, Friendship Club, Daisy Scouts, Dance Centre North, Eastern Hills Bible Church, Wednesday Morning Bible Study, G4, the Syracuse Homeschool Choir, and the Homewood Vine Academy, where she served as teacher, lunch lady, janitor, principal, and guidance counselor.
Those who encountered Mo were blessed by her generosity, inspired by her compassion, and guided by her wisdom. They were refreshed by her authenticity, encouraged by her faithfulness, and anchored by her love. They will long-remember her smile, her humor, and her laugh.
Those who knew Mo best witnessed a life lived fearlessly. She saw the humanity and the value in everyone she met, weaving an enduring tapestry of friendships along the way. She was an invaluable source of support and guidance to the CNY homeschooling community, and invested herself in countless charitable initiatives. She was fiercely loyal to her faith, family, and friends.
A memorial celebration will be held at Eastern Hills Bible Church on Thursday, December 28, 2017 at 11 a.m.; all are welcome. In lieu of flowers, Maureen's family has established a NYS 529 college savings fund for her son Finn in her memory. Contributions may be made directly through the website Ugift529.com using code W4J-G6X.