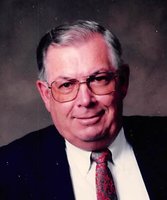 John W. Ryan
John W. Ryan, 81, of Cazenovia, passed away Tuesday, January 2, 2018 in Clearwater, Florida. John was born in Cazenovia, one of eight children to the late James L. and Elizabeth Dwyer Ryan. He graduated from Cazenovia High School in 1954 and along with four of his friends enlisted into the U.S. Army. He returned to Cazenovia with an honorable discharge in 1956 and was employed with the Cazenovia Phone Company, which merged and became ALLTEL, retiring after 30 years of service. John was extremely proud of his and his family's civic contributions to the community. He was the Mayor of Cazenovia from 1984 through 1999, a member of the Cazenovia Civic Club, a member of the American Legion Post #88, Cazenovia and a lifetime member of the Owahgena Hose Company of the Cazenovia Fire Department. John enjoyed traveling, whether by car or boat throughout Central New York and was fond of his hometown. He enjoyed reading and had a passion for history, especially military history and WW II.
In addition to his parents, he was predeceased by a brother, Robert Ryan in 1992 and by a niece, Molly Bennett in 2014. John is survived by his longtime companion, Joyce Sutphen of Clearwater Beach, FL.; his siblings, Barbara R. Bennett of Cazenovia, Elizabeth McDermott of Buffalo, Margaret (Pat) Clancy of New Woodstock, James L. (Susan) Ryan, Jr., Timothy L. Ryan and Richard P. Ryan all of Cazenovia as well as several nieces and nephews.
A Mass of Christian Burial will be celebrated at 11 a.m. Saturday, January 6, 2018 in St. James Church, 6 Green St., Cazenovia. Calling hours are 4 to 7 p.m., Friday, January 5 at Michael E. Brown Funeral Services, 2333 Fenner Rd., Cazenovia. Contributions in John's memory may be made to St. Jude Children's Research Hospital, P.O. Box 1000, Dept. 142, Memphis, TN 38101-9908 or to the Cazenovia Fire Department, 127 Albany St., Cazenovia, NY 13035.