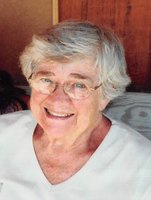 Anne Teitsch
Anne H. Teitsch, 87, of Cazenovia, passed away at home Tuesday, January 9, 2018. She was born in 1930 to Louis and Anna Schatz in Troy NY. In 1951, she married her high school sweetheart, John (Jack) Teitsch. She and Jack moved to Cazenovia in 1959, where they raised eight children and built a loving, beautiful home. Anne will be remembered for her deep and selfless devotion to her family. She especially loved to read and was a steadfast correspondent. Though she humbly held that she had few talents, her modesty offered others encouragement to share and explore their talent and aspirations. Her wonderful gift was sharing a kind heart, open mind and willing hands with all—friends, neighbors, as well as strangers—near and far.
She is predeceased by her daughter, Therese Teitsch, and son, Jeffrey Teitsch. She is survived by her husband of 66 years, John F. Teitsch, son, Michael (Mona) Teitsch, and daughters, Jacqueline (Andrew) O'Keefe, Bernice Bresemann, Margaret Mulvey, Marian (RE) Sears, and Sue (Claude) Braun, her sister, Mary Lou Carpentier, five grandchildren and numerous nieces and nephews.
In keeping with Anne's wishes there will be no calling hours. A memorial service and burial will take place later in the spring at St. James Catholic Church and Cemetery in Cazenovia, NY.