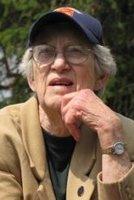 Darothy DeAngelo
Well, Darothy Greenhagen DeAngelo has bought the farm. She kicked-off on January 10, 2018. Originally from Rock Tavern, down in Orange County, Darothy was the first daughter of Carl Greenhagen and Elmas Seaman Greenhagen back in July of 1931.
After graduating from Washingtonville Central School in 1949, she attended Maryville College in Tennessee for two years. Some years later, she attained a B.A. degree in English from Syracuse University.
A longtime resident of Oran, she and then husband, Gordon, and their son, Charlie, moved to Central New York in 1955. Four years later they bought the Little's house on Cazenovia Road.
Her professional career, strange as it may be, had been in school bus transportation. She not only was a transportation supervisor at a number of schools, but also held the title of Master Instructor in School Bus Safety. She always was driven…
Over the years Darothy had affiliations with sport car clubs, community theatre organizations (too many to list) but specifically, Syracuse Little Theatre and the Ontario Performing Arts Society (O.P.A.S.) of Pulaski, along with many historical societies, i.e. Pompey Historical Society, Central New York Genealogical Society, The Daughters of Union Veterans, Onondaga Historical Association, Onondaga County Civil War Round Table, Manlius Historical Society, Madison County Historical Society and the Association of Public Historians of N.Y.S. (A.P.H.N.Y.S.) (an associate member as the first-ever Oran Community Church Historian. As such, she wrote a monthly column, "Historical Crotchets" for the church newsletter, The Steeple Speaker.) One of her last affiliations was with the Historic Oakwood Cemetery Association, a group who devote their time and energies to tending to the needs of Oakwood Cemetery.
Darothy was honored by the Pompey Historical Society in September of 2006 as the first "Scholar Among Us" in recognition for all her research of local persons and topics.
As a presenter, she had researched and spoken about the Loomis Family to over 60 organizations with over 3,000 attendees. She had also researched Gen. Henry Warner Slocum of Delphi Falls, Gen. Edwin Vose Sumner, who's buried in Oakwood Cemetery in Syracuse, and Grace Greenwood, a Victorian writer who was born in Pompey. In addition, Darothy volunteered with O.H.A.'s "Historical Mystery Players" in presenting vignettes of a historical nature to the public.
Darothy is survived by her children, Charles Seaman DeAngelo of Oran, Lynn Kelley and her husband, Don of Morrisville, and Caryl Ann Barron of North Carolina; her grandchildren, Erica Smith of Camillus, Ian Jamelski of Cortland, Sylvia Beesmer of Washington and Cassie Barron of Marathon; two great grandsons, Dominic Smith of North Pitcher and Kyle Smith of Camillus; her good friend, Barbara DeAngelo of Fayetteville and last, but not least, she leaves behind her one and only sister, Sue Greenhagen, librarian and computer guru of Morrisville. Darothy was predeceased by her former husband Gordon DeAngelo in September 2010.
She has directed that she be cremated with her ashes to be put in an urn on the hutch in the dining room.
A memorial service will be held at 1 p.m., Saturday, May 5, 2018 at Oran Community Church. P.S. She chose the music for the church service, so sing loudly and with feeling. (She's listening…) In lieu of flowers, contributions in Darothy's memory may be made to the Oran Community Church, 8560 Cazenovia Rd., Manlius, NY 13104.
That's all, folks