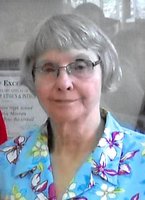 Rita Hughes
F. Rita Hughes, 84, of Cazenovia, passed away peacefully Friday evening at Crouse Community Center in Morrisville. Rita grew up in Chittenango and graduated from Chittenango High School in 1950. She worked as a teller and supervisor at the Key Bank in Cazenovia for 27 years until her retirement. Rita and her husband operated their family business for many years, the Bingley Cider Mill. She was a long time member of the Cazenovia United Methodist Church. As a pastime Rita enjoyed quilting and was a member of Towpath Quilting Guild, along with playing Mah Jongg and was a member of the National Mah Jongg League. She volunteered at the CAVAC Craft Fair and was a dispatcher with CAVAC for 15 years.
She was predeceased by her husband, Robert A. Hughes; a daughter, Kathleen M. Tobin and by a sister, Mary Edith Graham.
Rita is survived by two sons, Brian (Kathleen) Hughes and Rodney (Kim) Hughes; a half-brother, David Walker of Mexico; five grandchildren; two great grandchildren and nine nieces and nephews.
Memorial services will be held in the spring. In lieu of flowers, the family requested contributions be made in Rita's memory to CAVAC, P.O. Box 56, Cazenovia, NY 13035.