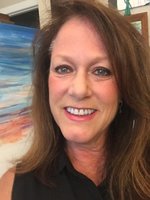 Louanne Gilmore Pontecorvo
Louanne Gilmore Pontecorvo, 59, died January 11, 2018 in Ponte Vedra, Florida. She was born in Buffalo, NY on April 28, 1958 to Jim and Willie (Hynes) Gilmore. As a teenager, the Gilmore family moved from Depew to Cazenovia, NY, where she graduated from Cazenovia High School and continued her education at MVCC in Utica NY. Louanne pursued her Masters in Fine Arts and Advertising Design at Syracuse University School of Performing Arts and Visual Communications. Louanne was a well recognized graphic designer in the Syracuse and Upstate NY advertising community. In 1993, she started Gilmore Graphics and continued to produce complex digital industrial designs and other high quality advertising and technical collateral. While in Florida, Louanne expanded her love of art with custom handmade jewelry and creating beautiful paintings of the area. Louanne was very active with local charitable, community, and golf organizations in both Cazenovia and Ponte Vedra. She renewed her love of dance in Florida by participating in the Tap Dance Group at Del Webb Ponte Vedra. She willingly donated her time and talent using her communications knowledge and diverse design skills.
Louanne is survived by her husband, Joe Pontecorvo; stepdaughters, Gina, Michelle, Mary and Francesca; grandchildren, Joseph, Julia, Sophia, Amelia and Eva; sisters, Lisa, Linda, Laurie and Laine. She was "Cool Aunt Lou" to her nieces, Carrie, Laurie and Leslie and nephews, Abe, James, Aaron, Tommy, Andy and Bradley; grand nieces, Sarah and Emily; grand nephews, Mark and Matthew.
A Mass of Christian Burial will be celebrated at 11 a.m., Tuesday, January 23, 2018 at St. James Church, 6 Green Street in Cazenovia. In lieu of flowers the family requests that a donation be made "In the Memory of Louanne Pontecorvo" to Cazenovia Area Volunteer Ambulance Corps (CAVAC), P.O. Box 56, Cazenovia, NY 13035.