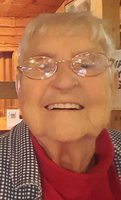 Hetty Omans
Hetty Omans, 86, of Erieville, passed away Tuesday morning at Crouse Hospital in Syracuse. She was born September 23, 1931 in Erieville, one of nine children of the late Floyd and June Woodcock. Hetty graduated from Hamilton High School in 1949 and worked as a waitress at the Brae Loch Inn and at the Wallace Hotel for many years. She also worked at Bruce's Apple Farm and enjoyed being outside tending to the orchard. She also enjoyed playing Pitch, competing in Pitch Tournaments and knitting. Hetty was a charter member of CAVAC.
She was preceded in death by her husband, of 59 years, William in 2009; two grandchildren, Kirk Den Bleyker and Justin Omans; her brothers, Howard, Homer, Harley and Harrison Woodcock; her sisters, Hazel Tayntor, Helen Nagel and Harriet Sterle.
Hetty is survived by her children, Jo Ann (Jack) Den Bleyker of Canton, Bridget Omans of Morrisville, Larry W. Omans of Washoe Valley, NV, Mark (Karen) Omans of Syracuse and Lindy Eschmann of Morrisville; her sister, Hilda Planck of Liverpool; nine grandchildren, nine great grandchildren as well as several nieces and nephews.
Funeral services will be held 4 p.m. Sunday, January 28, 2018 at Michael E. Brown Funeral Home, 2333 Fenner Rd., Cazenovia. Calling hours will be held from 2 to 4 p.m. Sunday at the funeral home prior to the service. Hetty's burial will be private. In lieu of flowers, contributions may be made to the Erieville Fire Department, 3653 Eatonbrook Rd., Erieville, NY 13061.