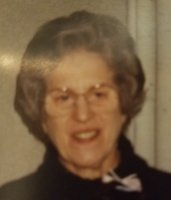 Antoinette Giuliano
Antoinette Giuliano, 92, of Cazenovia joined her parents, Joseph and Rose in God's presence. Born in 1926, she lived a selfless life of caring for others out of her love for God.
She is survived by her siblings, Frank (Josephine) Giuliano, Irene Spinelli, Arthur (Betty Ann) Giuliano, Rosetta (Ralph) Tavolaro, Ernest (Paula) Giuliano as well as several nieces and nephews. In addition to her parents, she was predeceased by a sister, Jenny and a brother, Joseph.
Antoinette's family will receive friends from 3:30 to 4 p.m. Sunday, February 11, 2018 at the Christian Apostolic Church in Fayetteville. Her funeral service will be held on Sunday at 4 p.m. following the visitation. Burial will be at a later date in White Chapel Memory Gardens in Dewitt. Contributions in memory of Ms. Giuliano may be made to the Christian Apostolic Church, 7300 Woodchuck Hill Road, Fayetteville, New York 13066.