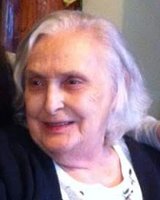 Barbara Gwynn
Barbara Gwynn, 86, of Delphi Falls, passed away peacefully Wednesday evening at the Oneida Extended Healthcare Facility. She was born in Fayetteville, a daughter of the late, Charles and Anna Holmes. Barbara graduated from Cazenovia High School and was a homemaker. She enjoyed baking and giving her baked goods to the members of the Delphi Falls Fire Department and the Delphi Falls United Church. She was a member of St. Peter's Episcopal Church in Cazenovia. In addition to being a homemaker, she took in several foster children through Catholic Charities and had an open door policy to anyone in need.
Barbara is survived by her children, George (Yvonne) Reynolds of Saranac Lake, Randy (Meg Harris) Reynolds of Cazenovia, Karen (Donald) Burbidge of Delphi Falls, Shelley (Bernie) Haldenwang of Oneida and Donald Gwynn of Delphi Falls; two step sons, Bradley (Sharon) Gwynn of Delphi Falls and Ronald Gwynn of Ohio; one sister, Dorothy (Robert) Grandaw of Canton; 25 grandchildren; 40 great grandchildren; 3 great-great grandchildren as well as several nieces and nephews.
In addition to her parents, Barbara was predeceased by her husband, Donald; sons, Robert, Rodrecke and John Reynolds; step son, Randy Gwynn; four brothers, Charles, John, Earl and Robert Holmes and by a sister, Clara (Phillip) Lites.
A memorial service will be held at 1 p.m. Thursday, February 22, 2018 at Michael E. Brown Funeral Services, 2333 Fenner Rd., Cazenovia. Calling hours will be held from 11 a.m. to 1 p.m. Thursday at the funeral home prior to the service. Following the service, a reception will be held at the Parish Hall in Delphi Falls. Contributions in memory of Mrs. Gwynn may be made to American Cancer Society B. Thomas Golisano Hope Lodge, 1120 Goodman Street, South Rochester, NY 14620.