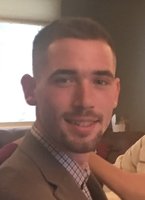 Kevin James Denney
Kevin James Denney, 23, of Syracuse, died January 30, 2018. He was born in Albany and graduated from Chittenango High School in 2013. Kevin was employed at Metro Mattress as a salesman at their Dewitt location. He attended Eastern Hills Bible Church and enjoyed participating in Mixed Martial Arts (MMA).
He is survived by his father, Jon and step-mother, Marie Denney of Chittenango; his mother, Lisa Denney and step-father, Mark Retersdorf of Arizona; his siblings, Dave Risso, Peyton, Oliver, Jonna Denney, Harrison and Maddy Gattuso; his paternal grandparents, Jim and Sandy Denney of Cohoes and his maternal grandmother, Mary Van Epps of Albany.
A memorial service will be held at 11 a.m., Saturday, March 10, 2018 in Eastern Hills Bible Church, 8277 Cazenovia Road, Manlius, New York 13104.