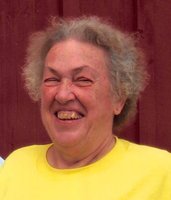 Terri Lynn Mather
Terri Lynn Mather, 73, passed away Thursday Morning at Crouse Community Center in Morrisville after a long battle with cancer. Terri was born on November 7, 1944 in Syracuse to Frank Silas and Ethyl Viella Featherly. Her family moved from Lakeport to the Town of Fenner when she was a young girl. Terri attended Cazenovia Central Schools and graduated in 1962.
She was married to Roslyn A. "Stormy" Mather, Jr. on November 10, 1962 and continued to live in Fenner all her life, raising a family, helping out on the family dairy farm in the early years, then caring for her own growing herd of beloved horses.
Terri also worked for several years as a waitress at the Chocolate Shop in Cazenovia, then for over 20 years at Thermold Corporation in Manlius and Canastota.
Among her interests were her many pets, riding and driving horses and reading. She and her husband were longtime members of the Cherry Valley Carriage Association and the NYS Draft Horse Club. Terri also enjoyed traveling with Stormy, who predeceased her in September 2010.
She is survived by her daughter, Kristen Mather of Utica; her daughter and son-in-law, Marianne and Keith Webb of Peterboro; her brother and sister-in-law, Larry and Janice Featherly of Peterboro as well as numerous nieces and nephews.
A memorial service will be held at 3 p.m. Monday, March 5, 2018 at Michael E. Brown Funeral Services, 2333 Fenner Rd., Cazenovia. Calling hours are from 1 to 3 p.m. Monday at the funeral home prior to the service. Contributions in Terri's memory may be made to the Susan G. Komen Breast Cancer Foundation, 5008 Brittonfield Parkway, Suite 300, East Syracuse, NY 13057-9254.