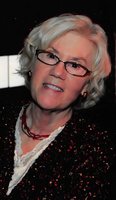 Christina Tallett
Christina A. Tallett, 69, of Cazenovia, passed away unexpectedly Friday morning. She was born in Martinsburg, West Virginia to Ernest and Geraldine Alther and moved to Cazenovia as a young child. Chris graduated from Cazenovia High School in 1966 and attended beauty school. She had been a cosmetologist at Stonehedge Nursing Home in Chittenango, NY for twenty–plus years. She was currently employed as a co-manager at The Key in Cazenovia. Chris had many interests, including country line dancing and was a member of the Salt City Two Steppers. She owned horses and competed in Barrel Racing, "off roading" with her Jeep and was a member of the Twisted Axels off road club. She was a very dedicated New York Yankees fan and enjoyed reading, listening to 70's classic rock, and country/western music. Chris also enjoyed traveling, visiting her daughters in Florida and she chaperoned trips to Spain with the Cazenovia High School Spanish Club.
Christina is survived by her husband of 48 years, Ralph Tallett, Jr.; her two daughters, Kimberly (Ed) Dauphin and Stacy Tallett both of Tampa, Florida; her sister, Gerry (Don) Nielsen of Omaha, Nebraska; her brother-in-law, John Tallett and sister-in-law, Patricia Tallett both of Cazenovia; her nephew, Keith Nielsen; her niece, Beth Mayer; great nephew, Colton Mayer and her beloved cousins in Martinsburg, West Virginia, Maria Childers and Kevin and Marty Webber. She was predeceased by her parents, Ernest and Geraldine and by a sister, Rebecca Alther.
A memorial service will be held at 7 p.m. Wednesday, March 7, 2018 at Michael E. Brown Funeral Services, 2333 Fenner Rd., Cazenovia. Calling hours will be from 4 to 7 p.m. Wednesday at the funeral home prior to the service. Contributions in Chris' memory may be made to the Cazenovia Fire Department, 127 Albany St., Cazenovia, NY 13035 or the Cazenovia Public Library, 100 Albany St., Cazenovia, NY 13035.