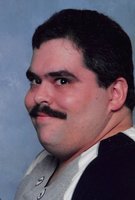 Samuel Leone
Samuel T. Leone, 49, of Manlius, passed away Saturday, March 3, 2018 in Syracuse. He was born in Syracuse to Gaetano "Guy" and Maureen Leone and graduated from Fayetteville-Manlius High School in 1987. Sam resided in Indiana before returning to New York. He was an artist who enjoyed sharing his art with others as well as a dedicated fan of the New York Yankees, Chicago Bears, Syracuse Basketball and had a passion for Disney.
He is survived by his sisters, Phyllis Leone of North Syracuse and Rosanne Leone of Manlius; several aunts, uncles and cousins. In addition to his parents, Sam was predeceased by his sister, Mary F. Leone.
A memorial service will be held at 12 p.m. Friday, March 9, 2018 at Michael E. Brown Funeral Services, 2333 Fenner Rd., Cazenovia. In lieu of flowers, contributions in Sam's memory may be made to the F-M Community Food Pantry, 122 East Seneca St., Manlius, NY 13104.