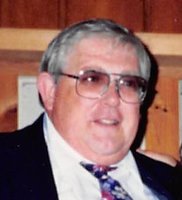 James M. McCarthy
James M. McCarthy, USAF Ret. 77, of Cazenovia, passed away Sunday at his residence. He was born in Syracuse and enlisted in the Air Force at age 17 and after being honorably discharged enlisted in the Air Force National Guard and served with the 174th Tactical Fighter Wing in Syracuse for 20 years until his retirement on November 30, 1987. Jim was employed as a metal inspector at Carrier Corporation for 32 years. He was a member of the American Legion Post #88, Cazenovia and the Nelson Sportsman's Club. Jim enjoyed snowmobiling and was an avid camper at Southwick Beach and more recently at the Cortland Country Music Park Campground.
He is survived by his wife of 55 years, Carmen; two daughters, Dora Riedl of Cazenovia and Debra McCarthy Conan of Onondaga Hill; a sister, Janet (Joe) Sweeney of North Syracuse; four grandchildren, Dylan Ryder, Joseph Riedl, Dima Jo Conan and Donald Francis Conan IV as well as several nieces and nephews.
A funeral service will be held at 2 p.m., Thursday, March 15, 2018 at Michael E. Brown Funeral Services, 2333 Fenner Rd., Cazenovia. The family will receive friends from 1 to 2 p.m. Thursday at the funeral home prior to the service. Burial will be in the spring at St. James Cemetery. In lieu of flowers, contributions in memory of Mr. McCarthy may be made to St. Jude Children's Research Hospital, P.O. Box 1000, Dept. 142, Memphis, TN 38101-9908 or to the Central New York S.P.C.A., 5878 East Molloy Rd., Syracuse, NY 13211.