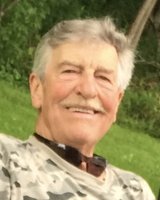 Charles A. "Charlie" Randall
Charles A. "Charlie" Randall passed away Sunday, March 18, 2018, at his home in Delphi Falls, surrounded by loved ones. Charlie, born February 2, 1935, was a lifetime resident of Delphi Falls, NY, and was married in 1955 to Jacleen Halton, his sweetheart of over 60 years. Charlie was an avid outdoorsman and hobbyist with a love for nature, hunting, fishing and trapping, along with extreme pride in his taxidermy work, a passion that he shared with family in a role that allowed him to be a mentor. He was honored to be a lifetime member of the Pompey Rod & Gun Club and spent many memorable years involved in Microd racing with his family in the 70's and early 80's. His love of racing came from drag racing his '57 Chevy in his early years. His passion for all things outdoors, led him to becoming a published author in Fur-Fish-Game Magazine. Charlie worked for many years at General Electric and eventually retired at the age of 62 from Fieldmeier Equipment Inc.
Charlie's memory lives on through his wife, Jacleen; son Steve; daughters, Charleen "Suzie" Guck (Bill), Jennifer Randall (Mark Nimmo), Marjorie "Maggie" Angeline (Tim); brothers, Ray Randall (Jane) and Jim Randall (Linda); grandchildren, Steven Fischer (Jolene), Katherine Soanes (Matty), Kelsey Heh (Dylan), Lauren and Nicholas Angeline; five great grandchildren, several nieces, nephews and great nieces and nephews.
Charlie will be remembered in the memories created with his family and for his tremendous accomplishments and life work. His teasing humor and kind heart will be missed by all who have encountered him and now carry on his memory.
A memorial service will be held at 4 p.m. Friday, March 23, 2018 at Michael E. Brown Funeral Services, 2333 Fenner Road, Cazenovia. Calling hours will be held from 1 to 4 p.m. Friday at the funeral home prior to the service. In lieu of flowers, memorial donations are welcome to Hospice of Central New York, 990 Seventh North St., Liverpool, NY 13088 and the Delphi Falls Fire Department, 2260 Oran Delphi Rd., Manlius, NY 13104.