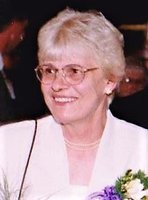 Mary Jane Stowell
Mary Jane "Mim" Stowell, 79, of Cazenovia, passed away from a brief illness, surrounded by her adoring family. She was born in a little house on Main St. in Cazenovia. She grew up on Farnham St. with her five brothers and her parents, Ma and Pa Fowler. She graduated from Cazenovia High School in 1956 where she met and married the love of her life, Gerald Stowell. She devoted her life to caring for her husband, children and her home. Through the years she and Gary took in and cared for many other children. She was a loving and devoted grandmother. In addition to caring for her family, she volunteered for CAVAC as a medic, taught first aid and CPR to many organizations, was a member and chairperson for the local Republican Committee, book keeper and accountant. Her hobbies included fishing, gardening, camping, woodworking and raising chickens.
Mary Jane is survived by her children, Sarah (Rick) Jordan, Gerald (Holly) Stowell Jr., Gregory (Deborah) Stowell, Benjamin (Jennifer) Stowell and Stacy (John) Gagnon; her brother, Alver (Zoe) Fowler; 14 grandchildren; 7 great grandchildren as well as several nieces and nephews. In addition, she was predeceased by her husband of 55 years, Gerald M. Stowell; parents, Walter and Mary Eloise Fowler; brothers;,Roy, Kenneth, Frank and Curtis Fowler.
Calling hours are 4 to 7 p.m. Thursday, April 5 at Michael E. Brown Funeral Services, 2333 Fenner Rd., Cazenovia. Funeral services will be held at 11 a.m. Friday, April 6, 2018 at the funeral home with burial at Evergreen Cemetery. A celebration of life gathering will be held on Friday, following the burial at 1 p.m. at the American Legion Post #88, Cazenovia on Mill St. in Cazenovia. In lieu of flowers, contributions may be made to CAVAC, P.O. Box 56, Cazenovia, NY 13035.