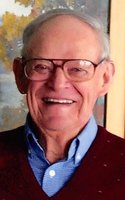 Lawrence D. Daley
Lawrence D. Daley, 92, of Cazenovia, died at his residence on Friday, March 30, 2018. Born in Cazenovia on March 30, 1926, he was the son of the late, Lawrence and Julia (McCarthy) Daley. Lawrence was a graduate of Cazenovia High School and Syracuse University obtaining a Bachelor of Civil Engineering Degree and Licensed Professional Engineer of New York State. He served from 1954 through 1956 with the Army Corps of Engineers at their Waterways Experimental Station in Vicksburg, Mississippi. His engineering experience included design of interstate highways at the Binghamton office of McFarland Engineers; he then joined Stearns & Wheler Engineers in 1960 to supervise the surveying and mapping of the firm's projects and designs of sanitary sewers and drainage systems in many villages and cities throughout New York State, West Virginia and Connecticut, retiring as an associate in 1991.
Lawrence was a dedicated gardener and an amateur landscaper. He and his wife, Anne, turned what was a barebones horse pasture into gardens and plantings such that they were awarded a certificate of Backyard Habitat Bird Sanctuary by the National Wildlife Foundation. He enjoyed reading, especially early American history; collecting bird prints as well as the sport of fly fishing and bird hunting.
He was a 15 year member and chairman of the Town of Cazenovia Planning Board. From 1964 – 1999 he was involved in various duties managing St. James Cemetery. In 2004 and in subsequent years, he was instrumental in arranging contracts for the restoration of monuments in Cazenovia's South Cemetery, receiving recognition for his efforts from the Town Board.
After retiring, Lawrence became a volunteer driver for the Office of the Aging, for the American Cancer Society and was a volunteer weather observer for the Binghamton Office of the National Weather Service. He also continued to participate in various bird monitoring studies as a volunteer with the NYS Bluebird Society and Cornell's Lab of Ornithology.
Lawrence was predeceased by his loving wife Anne of 50 years. He is survived by his brother-in-law, Gerald (Elaine) Luzzi and several nieces.
A Mass of Christian Burial will be celebrated 10 a.m., Thursday, April 5, 2018 at St. James Church, 6 Green St., Cazenovia. In lieu of flowers, contributions may be made to St. James Cemetery Perpetual Care Fund, 6 Green St., Cazenovia, NY 13035, the New York State Bluebird Society, c/o Murial Prianti, Treasurer, 5157 Orangeport Rd., Brewerton, NY 13029 or to the Cornell Lab of Ornithology, 159 Sapsucker Woods Rd., Ithaca, NY 14850.