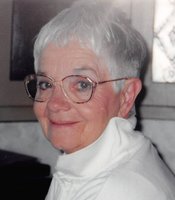 Vera Meta Love
Vera Meta Love, formerly from Delphi Falls and Cazenovia, passed away peacefully, March 31, 2018, surrounded by her daughters. Vera, the eldest daughter of German immigrants, was born and grew up in Newton, New Jersey, where she excelled in music and arts, skills which she practiced her entire life. She made lifelong friends and attended her sixty-third high school reunion. During her senior year in Newton, she befriended Laurence "Larry" Love, who would become her husband. Vera and Larry moved to Chittenango, NY and began working on their 500-acre farm and raising their children.
Later, Larry would purchase Cazenovia Equipment Company and the family moved to Delphi Falls and dedicated most of their lives to growing a successful business. Their lives changed dramatically when Larry had a farm accident and lost both of his legs. Undaunted, they both continued to work to build the business, raise their family, and remain active members of the community.
Vera was a very active member of the Delphi Falls United Church, serving as clerk, choir member, and a tireless worker with church bazaars, cemetery maintenance, and dinners. The church was Vera's community and she developed strong friendships in this fellowship. Vera enjoyed painting, sewing, crafts and volunteering with the Pompey Historical Society. She and Larry had many great trips throughout the world and spent time boating on Oneida Lake. She will be remembered as a wonderful wife, mother, sister, grandmother, caregiver and a friend to all who ever met her.
She will be forever missed by her three daughters, Julianne (Robert) Frazee, Jenifer (Paul) Hotchkiss, and Lauren (Adam) Love-DuBeau. She loved her three grandsons, Michael, Jim and Ben Frazee, her favorite granddaughter, Madeline DuBeau and many grand dogs and cats. She had six great grandchildren. She was active her entire life until a stroke in 2015 affected her vitality and her memory. The family lost part of her then and lost her forever this past Saturday. Vera was truly one of the sweetest people on earth.
A memorial service to celebrate her life will be held at 1:30 p.m., Sunday, April 22, 2018 at the Delphi Falls United Church. Contributions in memory of Vera may be made to the Delphi Falls United Church, 2190 Oran Delphi Rd., Manlius, NY 13104 or to the Town of Pompey Historical Society, 8354 Cherry Valley Turnpike, Manlius, NY 13104.