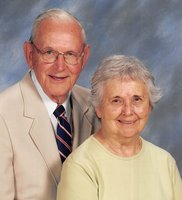 William & Jean Daggett
A joint memorial service will be held on Saturday, May 19, 2018 for longtime Cazenovians Bill and Jean Daggett. They were married for 63 years and died just one day apart. Their memorial service will begin at 10:30 a.m. at The First Presbyterian Church in Cazenovia. The family will greet friends after the service in the fellowship hall of the church.
Jean B. Daggett, 91, passed away on April 3, 2018, at Crouse Community Center. The only child of Reba B. and Frederick G. Butts, Jean was raised in Albany, NY. and attended the Academy of Holy Names. She was a graduate of Oneonta State Teachers College and taught briefly in Delmar before joining the Cazenovia Central School staff where she met and married William Daggett in 1954. Bill and Jean had three children and lived in homes built by her husband. Jean took a leave of absence from teaching to raise their family before returning to teach at New Woodstock Elementary and subsequently other first grade assignments in the district before her retirement in 1983.
In earlier years, she enjoyed reading, working with children and being a great neighbor. She was a reader for WCNY's Read-Out program for the visually impaired, a volunteer dispatcher for CAVAC and a contributor in the development of the pre-school story hour at the Cazenovia Public Library. In later years, she enjoyed using a computer to keep in touch with family and friends. She served as an elder and as an active member of the Alice Edwards Circle at The First Presbyterian Church of Cazenovia.
William J. Daggett, 88, passed away on April 2, 2018 at Crouse Community Center. He graduated from Cazenovia Central School with a wonderful group of classmates who remained his lifelong friends. Bill married his beloved wife, Jean, 63 years ago and they rarely spent a night apart. He was a loving husband, father and proud grandfather. Bill enjoyed baking, sharing vegetables from his garden, and lending a hand to friends for their home projects. His handcrafted wooden toys, cribs and furniture are still treasured by many to this day.
Bill worked for many years at Smith & Caffrey Steel Fabricators. He was a quintessential homebody and his greatest pleasure was being with his family followed by working in his woodshop, playing golf at the Cazenovia Golf Club and taking care of his yard.
He was a lifetime member of the Cazenovia Fire Department and served as an elder of The First Presbyterian Church of Cazenovia.
They are survived by their daughters Sara and Sue, daughter-in-law Anne, granddaughters, Elizabeth and Elyssa and numerous nieces and nephews. They were predeceased by their son, Bob and their parents, Reba Bell and Frederick G. Butts (Albany) and Emma and Robert L. Daggett (Cazenovia) and Bill's brother's Chuck, George, Gene and sister, Patricia.
The family is grateful for the compassionate care given by the staff at Crouse Community and asks that, in lieu of flowers, donations be made to the Cazenovia Public Library, 100 Albany St., Cazenovia, NY 13035, the Cazenovia Fire Department, 127 Albany St., Cazenovia, NY 13035 or CAVAC, P.O. Box 56, Cazenovia, NY 13035. A private burial will be held at Evergreen Cemetery. To leave a message of sympathy for the Daggett family, please visit www.michaelebrownfuneralservices.com