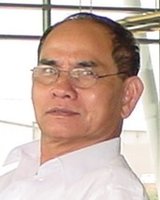 Samlorn "Sam" Song
Samlorn "Sam" Song, 69, of Cazenovia, passed away Monday after a brief illness. He was born in Cambodia and he, along with his family were adopted by the First Presbyterian Church of Cazenovia in 1981 and became members of the church in 1984. Sam was employed for 34 years with International Wire, retiring in 2015. Sam will be remembered for his laughter, wonderful smile, his jokes as well as his love for gardening and fishing. He was a pro at taking selfies and his family is blessed to have his pictures to remember his happy moments.

Sam was very present in the lives of his children and grandchildren. He enjoyed teaching and guiding them and spent most of his time playing with them like a kid himself. Sam was also dedicated to teaching his grandchildren the culture and traditions of the Cambodian people. He was very involved with the Cambodian community and church as well. He was an amazing man and will be missed by many but none more than his beloved family.

He is survived by his wife, Samboun; his two daughters, Lucille Song of Rochester and Sonya (husband, Brett) Knapp of Sherrill; his three sons, Sopheap (wife, Sasa) Song of Camillus, Samnit Song of Celina, OH and Tommy (wife, Dana) Song of Cazenovia; 11 grandchildren; one great grandson; several nieces and nephews, including Seng Kling of Ithaca and Chourn Kling of Philadelphia.

A memorial service will be held at 11 a.m., Saturday, March 10, 2018 in the First Presbyterian Church of Cazenovia, 27 Albany St., Cazenovia. Calling hours are 4 to 7 p.m., Friday, March 9 at Michael E. Brown Funeral Services, 2333 Fenner Rd., Cazenovia. Contributions in memory of Sam may be made to Madison County Habitat for Humanity, P.O. Box 528, Cazenovia, NY 13035.