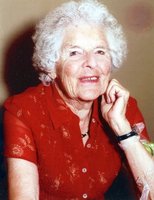 Muriel "Pat" Crosby
Muriel Claire "Pat" Crosby passed away in Community Memorial Hospital in Hamilton on October 11, 2018 at the age of 101. Born in West Englewood, NJ, Pat moved to Cazenovia with her family in 1957.
Pat was very active in promoting school expansion and building the public library in Closter, NJ. She continued supporting libraries as she volunteered at the Cazenovia Public Library, and served many hours annually helping with the Book Sale.
At age 73, Pat graduated from Onondaga Community College in 1990 as Valedictorian of her class. She was subsequently accepted to enroll at Hamilton College, but decided she wanted to educate herself through travel.
On a very limited income, she embarked on many adventures in the US (Alaska, Utah, Washington, Oregon, Hawaii, New Mexico); she ventured to Canada, Spain, Russia, Norway, England, Scotland, France, Austria, Switzerland, Peru, Easter Island, Bolivia, Mexico, Japan, China, New Zealand, Egypt, Jordan, Turkey, and Morocco. Many of her travels also included skiing (downhill and cross-country) and bicycling. Pat never met a stranger as she would "interview" everyone; she was so interested in hearing about their lives and cultures.
In Cazenovia, Pat played tennis with a group of friends; she was a life-time member of Willow Bank Yacht Club (and the WOWs – Women of Willow Bank) where she sailed small craft; she was a member of Cazenovia Ski Club (National Ski Patrol until age 65), and she last skied at the age of 97 at Toggenburg.
In September 2015, Pat was recognized for her years of undaunting promotion of recycling in Madison County. She had actively pursued recycling locally for 27 years and was present in 1990 when the county opened the Recycling Center. She proudly referred to herself as "Queen of the Dump."
Pat volunteered as a dispatcher for CAVAC for 26 years starting in 1987, logging in over 1,100 hours. In addition to volunteering, Pat respected the right to vote! Her mother had walked many miles in New Jersey to vote when women were first granted that right. Pat was photographed at her local polling place when voting at the age of 100, and at the time of her passing she had applied for an absentee ballot for the coming election. She was a member of the League of Women Voters, and was on the State Board for Literacy Volunteers.
Pat was predeceased by her parents, two brothers, and former husband. She is survived by three sons - Peter (Carolyn), Christopher (Kate), Sam (Kristen); six grandchildren – Elizabeth (Ray), Barrett (Renee), Christopher, Alexander, Will, Lucy; and 3 great grandchildren – Oliver, Rayna, and Natylee. She also leaves many dear friends in Cazenovia who treated her as Family.
A Celebration of Life will be held in late Spring/early Summer, as Pat donated her remains to S.U.N.Y. Upstate Medical University for research and education. In lieu of flowers, donations in Pat's name can be made to CAVAC, P.O. Box 56, Cazenovia, NY 13035 or the Cazenovia Public Library, 100 Albany St., Cazenovia, NY 13035. To leave a message of sympathy for the Crosby family, please visit www.michaelebrownfuneralservices.com