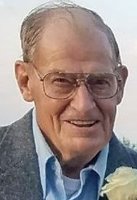 James F. Whidden, Sr.
James F. Whidden, Sr., 87, of Cazenovia passed away unexpectedly Friday, November 30, 2018. Jim will be forever remembered as a loving husband, father, grandfather, great grandfather and friend to whomever he met.
He is survived by his children, James F. (Catherine) Whidden, Jr. of Homer, Debra (Daniel MacGregor) Whidden of Shapleigh, Maine and Timothy (Colleen) Whidden of Cazenovia; seven grandchildren and six great grandchildren. Jim was predeceased by his wife, Betty on August 3, 2009; his siblings, William Whidden, Joan Clark and Joseph Whidden and by a step-grandson, Matthew Brown.
Calling hours will be held from 3 to 6 p.m., Friday, December 7, 2018 at Michael E. Brown Funeral Services, 2333 Fenner Road, Cazenovia. Graveside services will be held in the spring at South Cemetery in Cazenovia. Contributions in memory of Mr. Whidden may be made to GoFundMe for Amy Richards Light.