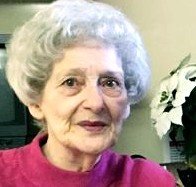 Mary Krusell
Mary R. (Burnell) Krusell, a long time resident of Cazenovia, NY, joined her beloved deceased husband, Dick, on December 30, 2018 at age 93.
She was born in Pittsfield, MA on January 18, 1925, to Irene A. Chamberlain and Ernest F. Burnell, and was raised in North Brookfield, MA by her "Aunt" Sadie Cuddy.
Mary graduated from St. Joseph's and North Brookfield High School, where she met the love of her life, Dick Krusell. She joined the drama club, basketball team, and enjoyed ice skating and playing tennis whenever possible. Mary also worked part time for the Cuddy Insurance Agency, where she learned underwriting and recommended eligible applicants to North Brookfield's WW II Rationing Board.
In 1943, Mary began working full time for H.H. Brown Shoe Company in Worcester, MA and was promptly sent to Boston to train on a computer that filled a large room. By age 19, she was promoted to payroll supervisor for approximately 600 employees.
Mary and Dick were engaged on his birthday in 1946 and married on her birthday in 1947. (Talk about event planning!)
Dicks' career took them to Abington, MA in (circa) 1949; Windsor Locks, CT in 1954 and Cazenovia, NY in 1960. Mary reveled in the role of homemaker and taught Catechism, became a Cub and then Girl Scout leader, created award winning Halloween costumes with Dick, and doted on her gardens.
She also wrote a column for the Cazenovia Republican, worked as a bookkeeper for an insurance adjusting agency and did investigative work with Dick. Her favorite job was working as a real estate agent with Peter Olson & Muriel Peck in Fayetteville, NY.
This fair skinned brunette with hazel eyes embraced life with gusto. She shared Dick's need for speed for everything from tackling daily activities and riding on the back of his motorcycles, to racing to appointments in her red Chevy convertible, navigating a cross country trip in the Cessna Skyhawk 172 that Dick restored, and playing bumper cars with their respective wheelchairs in their last decade. As Mary was fond of saying: "I was born running."
Mary's devotion to her husband of over 70 years; dramatic flair; deep faith; intellect; kindness; and passion for cats, flowers, music, and politics, will be sorely missed by all who knew her.
She is survived by her: daughter Karen A. Krusell; son Richard A. Krusell Jr.; daughter-in-law Dora Alicia Duran-Hernandez; grandson Richard A. Krusell III, his wife Carmen L. (neé Ferreira) Krusell and two great-grandsons, Armando A. and Alejandro J. Krusell; a niece, Ann M. Champigny; two nephews, John R. and Thomas J. Steiger and their families; dear friends and neighbors.
Mary is also survived by her sister, Helen (Cyril) Canty and her family; shared memories of her predeceased sister Margaret (Jack) Hubbard; and the families of predeceased siblings: Arthur (Betsy) Burnell, Barbara (Don) Baker, Doris (Edgar) Howlett, and Ernest (Jessie) Burnell.
A private Memorial Mass will be held at St. James Church in Cazenovia. Interment will be in Walnut Grove Cemetery in North Brookfield, Massachusetts.
To celebrate Mary's life, please enjoy the flowers along your path and plant seeds of hope to remind us how beautiful life can be.
Special thanks go to Crouse Community Center's family in Morrisville, NY for their patient/resident centered culture, superb attention to detail at every level, tender loving care of both Mary and Dick, and the compassion they extended to our entire family.