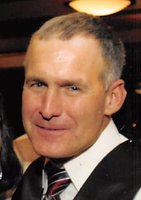 Charlie Davis
Charles "Charlie" Davis, 68, of Erieville went to be with the Lord July 16, 2019 following a battle with ALS. His determination, positive attitude, love of life and sense of humor made Charlie the special person he was. Charlie was born in Canastota on "Washington's birthday" 1951.
Charlie was a lifetime resident of Cazenovia, Erieville and Chittenango. Charlie enjoyed working with youth. He taught 7th grade shop/industrial arts/technology for 32 years until his 2006 retirement from Chittenango Central School.
In 1987 he bought his uncle's farm in Erieville where he raised registered Herfords from 1987 to 2009. He was a past president of the New York Herford Breeders and treasurer of the New York Beef Producers as well as advisor for the Junior Beef Producers.
Charlie was an active founding member of the CNY Studebaker Club. He delighted in owning and displaying his three antique vehicles; 2 Studebakers and a DIVCO (Detroit Industrial Vehicle Company) "snubbed-nosed" milk delivery truck. Charlie was also a loyal Pittsburgh Pirates baseball fan - win or lose – and a CAVAC (Cazenovia Area Volunteer Area Corps) driver. He was honored to serve as president from 2016-2019, and his CAVAC family was a tremendous support during his illness. Charlie was also the student Corps advisor for CAVAC.
As an avid runner, Charlie participated in three half-marathons. When he was no longer able to run, friends enabled him to continue by pushing him in what came to be known as "Charlie's Chariot." Charlie was dedicated to raising money through the Walk to Defeat ALS and served as the 2018 spokesperson. His team "Charlie's Buddies" was successful in raising thousands of dollars for the cause.
Charlie was predeceased by his sister Kathleen "Kay" in 2008.
Charlie is survived by Nancy (Caiella), his wife of 45 years; his son Charles (Sheryl Koennecke) of Syracuse; his daughter Jillayne (Jamie) Weaber of Halifax, PA and three grandsons Logan and Reid Weaber and Wade Davis. Charlie is also survived by his parents, Charles Lester and Virginia Lyga Davis of Erieville, NY; his brother Ric (Lori) Davis of Liverpool, NY; his sister Tami (Ritch) Selfridge of Bainbridge, NY; his brother-in-law David Clements; several nieces and nephews and numerous friends and acquaintances.
Nancy wishes to thank all those who have helped this past 18 months. From the prayers and quiet gestures of kindness to the loud surprises of joy, the family was truly blessed by all of you.
A service in celebration of Charlie's life will be held 11 a.m. Saturday, July 27, 2019 at St. Peters Episcopal Church, 12 Mill St, Cazenovia, NY. Reception to follow. In lieu of flowers, donations can be made to CAVAC, 106 Nelson St., Cazenovia, NY 13035. To leave a message of sympathy for Charlie's family, please visit www.michaelebrownfuneralservices.com