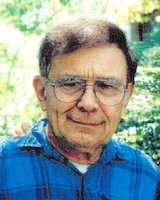 John "Jack" Teitsch
John F. "Jack" Teitsch, 90, of Cazenovia, joined his beloved wife, Anne when he left this world on July 25, 2019. He was born April 28, 1929 in Troy, New York and was the second of six children to John and Mary Teitsch. Growing up he worked in the family's bakery, but from an early age he aspired to be an architect. While attending Troy High School, he met his sweetheart, Anne Schatz. They were married in Troy on November 17, 1951 and were inseparable until her death in January of 2018.
An R.O.T.C. scholarship enabled Jack to attend R.P.I. and realize his dream of becoming an architect. Soon after graduation, service in the U.S. Army took them to several military bases across the United States and Jack to a tour in Korea. Upon his honorable discharge, an employment opportunity in Syracuse led them to move their growing young family to Cazenovia in 1959.
In the mid 1960's with eight children, he started his own architectural firm. Later, he partnered with his lifelong friend, Bob Kent as Teitsch-Kent Architects. The firm, now Teitsch-Kent-Fay, continues to thrive under the guidance of Dan Fay. Examples of their unique architectural style can be found throughout Central New York and around the state in the form of churches, schools, universities and homes.
A quiet, humble man, he always put his family first. He an Anne were an amazing inseparable team during their 66 year marriage. As part of the Cazenovia community, Jack served on the school board, was a Rotarian and a communicant of St. James Catholic Church. Jack enjoyed running, gardening and an ever-present building project at his home.
Jack is survived by his children, Jacqueline (Andrew Donoho) O'Keefe, Bernice Breseman, Michael (Mona Brooks) Teitsch, Margaret (Bill Gray) Mulvey, Marian (R.E.) Sears and Suzanne (Claude) Braun; his grandchildren, Tom O'Keefe, Lauren Bixler, Karissa, Josh and Travis Teitsch; his brother, Jay Teitsch; sisters, Mary McCue, Bernice Delaney and Ann LaRose as well as several nieces and nephews. He was predeceased by his wife, Anne; his son, Jeffrey Teitsch; his daughter, Therese Teitsch and by his brother, Joseph Teitsch.
A Mass of Christian Burial will be celebrated at 9:30 a.m., Thursday, August 1, 2019 at St. James Catholic Church, 6 Green Street in Cazenovia. Burial will be in St. James Cemetery. Calling hours will be held from 3 to 6 p.m., Wednesday at Michael E. Brown Funeral Services, 2333 Fenner Rd., Cazenovia. To leave a message of sympathy for the Teitsch family, please visit www.michaelebrownfuneralservices.com