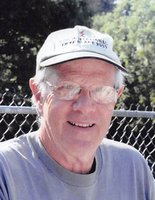 Richard "Dick" Tuttle
Richard "Dick" Pomeroy Tuttle died peacefully surrounded by family at Crouse Hospital in Syracuse, NY on August 20, 2019 at the age of 81.
Dick is survived by his wife, Sharye Monson Skinner of Cazenovia, NY. Dick and Sharye met at a charity event in 1982. They have enjoyed the arts, skiing, travel and living on Cazenovia Lake. In 2003, they were officially married by Judge Stewart Hancock with friends and family observing. Festivities included Dick's grandchildren enjoying remote controlled cars.
Dick is also survived by his children: Pam Murphy (Clay Murphy) of LaFayette, NY; Leslie Ditrani (Phil Curtis) of Cambridge, MA; Blair Tuttle (Marcella Smith) of Erie, PA and their mother Siegrid Kaufmann Tuttle of Syracuse, NY; 9 grandchildren: AJ & Peter Murphy; Trevor, Walter, & Kate Ditrani and Tessa Curtis; and Tristrum, Belden, and Siegrid Grace Tuttle; and many nieces and nephews.
Dick was born on September 10, 1937 in Syracuse, NY to John R. Tuttle and Louise Buckley Tuttle. He was predeceased by his parents; brother, Forbes Tuttle and sister, Sally Merrick. He is survived by his brother John D. Tuttle (Ann Darmstaetter) of New York, NY.
He attended Syracuse University. Dick began his career in New York City in 1959 working for various advertising agencies. From 1962 to 1966 he was an Account Executive with Hornblower & Weeks. He moved to Syracuse and was an Account Executive for Reynolds Securities from 1967 to 1973. From 1973 to 1975 he was Executive Vice President of Miller Securities before founding Tuttle Securities in 1975, and he founded Tuttle Leasing in 1982. He sold his Tuttle Securities business in 1999 but continued numerous business activities. Over the years, he enjoyed many investments with his brother, John Tuttle.
Dick was active in the community. He was a member of the Board of Directors and Treasurer for Meals on Wheels from 1968 to 1970; a member of the Board of Directors for the Citizens Foundation from 1969 to 1972; Trustee and Treasurer of Park Central Presbyterian Church from 1970 to 1975; a Member of the Advisory Council for the Center for Economic Education at Lemoyne College, 1985; a Trustee of Onondaga County Public Library from 1987 to 1989; President of Syracuse Area Landmark Theatre, 1991; a Trustee of the Syracuse Area Landmark Theatre from 1986 to 1992; and President and Board Member of the Stone Quarry Hill Art Park in the early 2000's. He was a member of the National Association of Securities Dealers, Bond Club of Syracuse (Board of Directors 1980-1987, President 1986), University Club, and Gyro Club.
Dick loved sailing competitively. As a skipper, he was the Lightning fleet champion many years at Willow Bank Yacht Club as well as competing at the district and national levels. He particularly enjoyed sailing with his daughters and in later years his grandchildren, AJ and Peter. He was an avid tennis player, playing at the Cazenovia Club in summer and at various locations around Central New York. He enjoyed card games and played bridge competitively at tournaments around the region. He achieved Life Master status in the ACBL.
Dick was grateful for the many caregivers he had. In particular, the nurses and other staff at Crouse were wonderfully caring and capable.
Dick will be remembered for his kind competitive spirit, his humor, and his love for gathering with friends and family. Dick will be missed by those who knew and loved him.
A celebration of Dick's life is scheduled for 11 a.m. on Saturday September 7, 2019 at the First Presbyterian Church of Cazenovia, 27 Albany Street, Cazenovia with a reception to follow in The Meeting House. Calling hours are 4 to 7 p.m., Friday September 6, 2019 at Michael E. Brown Funeral Services, 2333 Fenner Rd., Cazenovia, NY. All are welcome to attend and celebrate Dick's life. In lieu of flowers, please consider donating to Stone Quarry Hill Art Park, 3883 Stone Quarry Rd., P.O. Box 251, Cazenovia, NY 13035. To leave a message of sympathy for Dick's family, please visit www.michaelebrownfuneralservices.com