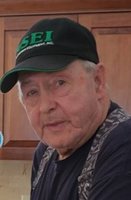 George Barrows
George Wayland Barrows, 84, of Erieville, passed away peacefully Monday, September 16, 2019 at home surrounded by his loving family. He was born on October 9, 1934, the third of eight children, in Delaware Square, Norwich, New York to Ollie Adelbert and Ellen Baylor Barrows. His mother-in-law affectionally called him the "Pied Piper" as children loved him and he expressed his love for them unconditionally. His formal education began in a modest two room school house in Delphi Falls after which he attended Marcellus School and Fabius School completing his education while in the Navy. George survived Scarlet and Rheumatic fever during his childhood and served in the Navy from 1950 to 1954, on the aircraft carriers the Franklin D. Roosevelt, Coral Sea and Midway in the Mediterranean Sea during the Korean War. Upon receiving an honorable discharge he was employed at Solvay Process, was a Shop foreman at the Boiler Facility for the Air Force located at Hancock Field. He was also a truck driver for Schwerman Trucking and Inland Express. George was also proud to be the first mechanic at John Deere in Cazenovia. In 1970, along with his wife, they started their own vehicle repair and AAA service in Delphi Falls. George was known for building his own tow trucks until he had to resort to rollbacks. They continued their business after moving to Erieville until his retirement in 2002. While living in Delphi Falls he volunteered with the Delphi Falls Fire Department working his way up to Fire Chief and was also a volunteer for the Erieville Fire Department.
In 1974 they purchased 95 acres of land that contained no structures, just scrub apple trees and brush. Between 1974 and 1981, he worked clearing the land and then proceeded to develop it by purchasing a Firetower cabin from Georgetown and moving it to the property. They lived there for several years before placing a foundation for their home around the cabin. George built several other buildings and then purchased the old Town of Nelson Highway Garage and opened a vehicle repair garage, still working for AAA. After his retirement they had electricity brought to the property. As land surrounding the property became available he continued to expand his land until accumulating 160 acres.
In his younger years he enjoyed playing the guitar and singing with fellow musicians and friends, Albert Pfohl, Fred Turner, David St. Pierre and many more among others. He loved to play poker, rummy, hearts and pitch, especially with his grandchildren.
George is survived by his wife, Miriam, who loved him dearly; his daughters, Melonie Unger (Tom) and Beth Ann Unger (Joe); his son, Michael McQuade; grandchildren, Thomas R. Unger II (Bernadette), Jennifer Huntley (Raymond), David Hand, Jr. (Laura) and Ashley Watson (John); great grandchildren, Grace and Myrah Unger, Tessy and Shelby Huntley, Michael J. Watson and Ethan Rourke; his sister, Bernadine Meroney (Robert); brother, Ross Barrows; sister's-in-law Nancy Barrows, Patty Barrows, Ann Eallonardo (Anthony) and Elizabeth VanIderstine (John); brother-in-law Herman F. Bieling, Jr. (Teresa) as well as many nieces, nephews and cousins.
He was predeceased by his son, George at the age of 2; step-sister, Mary Ossit (Marion); step-brother, Ollie Barrows (Veronica); sisters, Juanita Bishop (Leonard), Ollie Jane Wheeler (William) and Elda Barrows; brothers, Larry, Jerry and Lester Barrows; father-in-law Herman F. Bieling and his mother-in-law Miriam E Bieling.
A memorial service will be held at 4 p.m. Saturday, September 21, 2019 at Michael E. Brown Funeral Services, 2333 Fenner Rd., Cazenovia. Calling hours are 2 to 4 p.m. at the funeral home on Saturday prior to the service. In lieu of flowers please contribute to St. Jude Children's Research Hospital, https://www.stjude.org/donate/donate-to-st-jude.html, or Hospice of CNY, http://www.hospicecny.org/support-hospice/
To leave a message of sympathy for the Barrows family, please visit www.michaelebrownfuneralservices.com