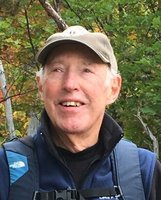 Charles Morgan
Charles Bedford Morgan, 84, of Cazenovia, died Friday evening, September 13th, surrounded by his loving family. He was born October 21, 1934 in New York City to George Kenneth and Gladys Bedford Morgan and spent his childhood in the Adirondacks. Charles was a graduate of Northwood School in Lake Placid in 1952 and from Amherst College in 1956. After working in the finance industry for over 60 years, he retired in 2016 from Morgan Stanley as a Senior Vice President.
Charles was very active in many communities and served on several boards including the Northwood School, S.U.N.Y. ESF, Paul Smith's College, Cazenovia College, Crouse Hospital Foundation and the Cazenovia Lake Association. He enjoyed the arts and was a board member of the Syracuse Symphony and Syracuse Stage. Charles was also a member of the Cazenovia Club, the Willow Bank Yacht Club, the Century Club, La Confrerie des Chevaliers du Tastevin and the Lotos Club in New York City. He was a life member of the Englewood Field Club.
Charles was an avid hiker and hiked all 46 of the high peaks in the Adirondacks, many of them multiple times. He especially enjoyed taking novice hikers up their first high peak. He was an outdoorsman in the greatest sense of the word – boating, fishing, snowshoeing, skiing in addition to hiking were among his favorite pursuits. When he wasn't exploring the outdoors, Charlie loved nothing better than enjoying good food and wine among a few of his many and far-flung friends and family. He will be sorely missed.
Charles is survived by his wife of 64 years, Elsbeth Wright Morgan; their four children, Charles (Wendy) Morgan, Jr. of Fairfield, CT and their children Katherine (Josh) Regina and Elizabeth Morgan, Alexandra "Alix" (Jeffrey) Shaw of Cazenovia and their children Emily (Bryan) McLaughlin and Thomas Shaw, Jeffery (Virginia) Morgan of Peru, VT and their children, Nicholas and Henry Morgan and Edward "Ted" Morgan of Nassau, Bahamas and his family, Charles Morgan III, Christopher Morgan and Gabriela Feliu; three great grandchildren, Blair Regina, Brooke Regina and Parker Morgan; his sister, Anne (James) Price of Bonita Springs, FL and several cousins. In addition to his parents, he was predeceased by his brother, Kenneth Morgan.
A memorial service will be held at 11 a.m., Saturday, September 28, 2019 at St. Peter's Episcopal Church. Calling hours are 4 to 7 p.m., Friday, September 27 at the church, 12 Mill Street in Cazenovia. Contributions may be made to St. Peter's Episcopal Church. To leave a message of sympathy for the Morgan family, please visit www.michaelebrownfuneralservices.com