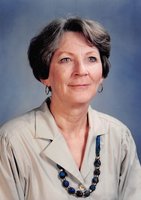 Linda Cotton
Linda Olson Cotton, 78, of Manlius, passed away Thursday, September 19, 2019 at St. Camillus Residential Health Care Facility in Syracuse. She was born August 5, 1941 in Austin, Texas to Weldon and Helena Campbell Olson. Linda was a graduate of Arlington Heights High School in Fort Worth, Texas. She continued her education at Southwestern University in Georgetown, Texas where she was awarded her undergraduate degree in Early Childhood Education and was a member of the Delta Zeta sorority. She earned her Master's degree in Childhood Education from S.U.N.Y. Cortland. Linda was employed by Cazenovia Central Schools as an elementary school teacher from 1980 until her retirement in 2004. Prior to establishing a home in Cazenovia, Linda and her family resided in Jacksonville, Pensacola, Atlanta, Philadelphia and Chicago. She was a devoted wife, a loving mother and grandmother. Her favorite pastimes where tending to her flower gardens, sewing, interior decorating and spending time with her grandchildren.
She is survived by her husband of 56 years, Jerry Cotton of Manlius; her children, Stephanie Rudnick of Skaneateles and David (Tanya) Cotton of Gilbert, AZ.; her grandchildren, Emma, Ben, Lydia and Zoe. In addition to her parents, she was predeceased by her sister, Nancy Olson.
A memorial service will be held at 6 p.m. Friday, October 4, 2019 at Michael E. Brown Funeral Services, 2333 Fenner Road in Cazenovia. Calling hours will be held on Friday from 4 to 6 p.m. at the funeral home prior to the service.