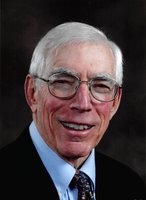 Thomas Hume Laidman
Thomas Hume Laidman, 87, of Cazenovia, passed away peacefully Friday, October 4, 2019. Hume was born in Easton, Maryland and brought up on the Eastern Shore of Maryland, Florida's East Coast and Cazenovia NY. He became a longtime resident of Cazenovia after spending summers there with the Witherill family as a teen. Hume attended some 16 different schools, ultimately graduating from Miami Senior High and the University of Miami with a degree in Engineering. Hume served in the US Army (SCARWAF) from 1953-1955. Following his military service and graduation, he joined Carrier Corporation in 1955 as an Industrial Engineer. During a 44 year career at Carrier, he worked in all divisions, spent three years commuting to Korea and three years living in England. Hume participated as an engineer, manager and executive in the establishment of Carrier factories and joint ventures in Asia, South America, Africa, Europe and Central America as well as the United States, traveling to 52 different countries. He was one of the founders of Carrier Transicold which eventually became the world's largest supplier of transport refrigeration equipment. In 1997 he joined with others in the development of Carrier Refrigeration Operation and in three and ½ years saw the division more than triple in sales to $22.3 billion. Hume retired in 2001 as Vice President Worldwide Operations for Carrier Refrigeration. In retirement he served as a SCORE mentor, helping many people start and grow their own businesses. He was also a founding member of CRIS (Cazenovia Resources for Independent Seniors) and was instrumental in starting CRIS-CAT.
Hume married Peggy Ayars in 1958. Both were avid sailors and racers. Peggy had inherited the first Lightning class sailboat, Lightning #1, from her father which they continued to race on Cazenovia Lake for several years. They sold the boat in 1970 and it is now on display in Skaneateles at the boat museum in The Creamery.
Hume's other interests included tennis, golf and skiing. Having married a skier but not growing up skiing himself, he quickly caught up, eventually serving on the Song Mountain Ski Patrol for 50 years. He also participated on the Toggenburg and Cazenovia Ski Club ski patrols, receiving National Appointment Number 3922 in 1971. While a member of the Cazenovia Ski Club, he served on its board and spent three years as president, where he led the creation of three new ski trails. It was at Caz Ski Club that Hume and Peggy taught their children to ski and race, creating three life-long ski addicts all of whom are active in the ski industry today. Hume was also a long-time member of Willow Bank Yacht Club and The Cazenovia Club where he served on the Board of Governors and as President. He came late to golf and was a member of the Cazenovia Golf Club, Cazenovia Country Club and Hills Country Club in England.
Hume is survived by his wife of 61 years, Marjorie "Peggy" Barclay Ayars, one son and daughter-in-law; David and Chris Laidman and their children, Devon and Bailey of Dover, MA. Two daughters and sons-in-law; Lisa and Chip Hodgkins, their children Caroline, Chase and Lauren of Manlius and Barclay and Josh Rappeport and their twins Cooper and Logan of Waitsfield, VT.; and Linda Witherill of Derry, NH. He was predeceased by a brother, Jim, from Royal Palm FL.
Calling hours are 3 to 6 p.m., Friday, October 18, 2019 at Michael E. Brown Funeral Services, 2333 Fenner Road in Cazenovia. A memorial service will be held at 11 a.m., Saturday, October 19, 2019 at the First Presbyterian Church of Cazenovia, 27 Albany Street, where he was a member. Immediately following the service on Saturday, his family will receive friends at the Cazenovia Club, 4 Ledyard Ave. in Cazenovia.
Memorial contributions in Hume's memory may be made to Cazenovia Volunteer Ambulance Corps, 106 Nelson St., Cazenovia NY 13035, Iroquois Nursing Home, 4600 Southwood Heights Dr., Jamesville, NY 13078, or to the Kelly Brush Foundation, 3 Main St., Suite 105, Burlington, VT 05401 which provides aid to adaptive skiers.
Michael E. Brown Funeral Services in Cazenovia has care of arrangements.