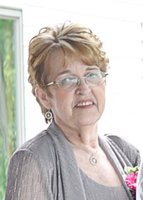 Kathryn "Kathy" Barber
Kathryn I. Barber, 70, of Nelson, passed away Wednesday at Crouse Hospital with her family by her side. She was born in Rochester to Leland and Mildred Strong and had attended S.U.N.Y. Plattsburg. Kathy was a homemaker and spent most of her life caring for her family. She will also be fondly remembered by her family for her creative baking and quilting skills. Kathy was dedicated to the Morrisville School District and volunteered many years of her time to lend a hand where needed. She was known for attending all of the sporting events for her sons and never allowed distance to keep her from a game. Kathy was a member of the O.E.S. Neowahga Chapter 419, Cazenovia.
She is survived by her long-time companion, Darrell McKinnon of Nelson; three sons, John Becker of Nelson, Erik Barber of Syracuse and Shaun (Raina) Barber of Truxton; four sisters, Dorothy Strong of Cazenovia, Janet (Mark) Sunderman of Cazenovia, Shirley (Ralph) Bliss of Nelson and Barbara (Archie) McEvers of Fenner; four grandchildren, Danielle Goodfellow, Peyton, Nathan and Sienna; one great granddaughter, Alyssa as well as several nieces and nephews.
Funeral services will be held at 10 a.m., Tuesday, October 15, 2019 at Michael E. Brown Funeral Services, 2333 Fenner Road in Cazenovia. Burial will be in Nelson Rural Cemetery. Calling hours are 4 to 7 p.m., Monday, October 14, 2019 at the funeral home. In lieu of flowers, contributions may be made to the Morrisville Eaton Sports Boosters, P.O. Box 990, Morrisville, NY 13408 in memory of Kathryn.