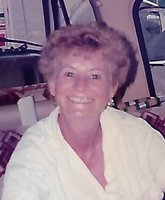 Glenda "Peenie" Armstrong
Glenda G. "Peenie" Armstrong, 87, of Cazenovia, passed away Wednesday evening at Crouse Community Center in Morrisville with her family at her side. Peenie was born in Hannibal, New York on August 14, 1932 to Earl and Mildred Langley. She retired from Hutchings Psychiatric Center in Syracuse where she worked in the purchasing department. Peenie had resided in Vero Beach, Florida where she enjoyed sailing and was a member of the Fort Pierce Yacht Club. She enjoyed gardening, golfing and was a former member of the Cazenovia Golf Club and was a member of the Cazenovia Ski Club. Peenie was a faithful Christian and a member of the Open Door Baptist Church.
She is survived by her children, Chuck Grime of New Woodstock and John (Joanne) Grime of Cazenovia; her step-son, Gary Armstrong of PA; two step-daughters, Lisa Nistler of TN and Lori Cramer of Baldwinsville; Peenie is also survived by several grandchildren and great grandchildren. In addition to her parents, she was predeceased by her husband of 36 years, Robert Armstrong; her son, Tim Grime and by a granddaughter, Amy Grime.
The family will receive friends for a luncheon at the Open Door Baptist Church, 3019 Route 13, New Woodstock, NY on Monday, October 21, 2019 at 12 p.m. Following the luncheon, funeral service will be held at 1 p.m., Monday, October 21, 2019 at the Open Door Baptist Church. Burial will be in Evergreen Cemetery in Cazenovia. Contributions may be made to the Alzheimer's Association Central New York Chapter, 441 West Kirkpatrick St., Syracuse, NY 13204-1305 or to Camp Bayouca, 100 Camp Rd., Smithfield Flats, NY 13841.