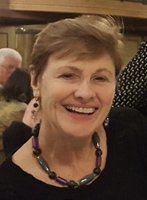 Jean Shirley
On October 12, 2019, Jean Shirley, loving partner, sister and community member, passed away at age 69.
Jean was born in Yonkers, NY, February 15, 1950. Her family moved around but she considered herself from Moon Township, PA, where she graduated from Moon Senior High School. She went on to meet her best friend, Pat Schramm, and graduate in 1972 with a social work degree from Mercyhurst College.
Jean was an inspiring source of hope and new beginnings for thousands of impoverished individuals involved in the Onondaga County justice system. Her work as a client advocate with Hiscock Legal Aid Society (HLA) began over 40 years ago, not long after she graduated college and moved to Syracuse, NY. She first started with the City Court Criminal Defenders Program, then in 2004 moved into the Family Court Program, and in the last couple of years worked in the Parole Program. Her calm presence, gentle guidance, and ability to just listen, allowed her to identify community resources that assisted clients in achieving their goals, whether it was sobriety, housing stability, return of their children, or countless other needs. Jean received the 2018 American Bar Association's Liberty Bell Award for her work with HLA and the community.
Jean loved her time with Ken, reading books together, attending lectures and exploring their spirituality. She also loved to spend time in the outdoors with her beloved golden retrievers, Mollie and Oscar. She especially looked forward to her annual trip to the Adirondacks with both the Pats in her life, where they spent hours laughing and relaxing.
Jean had countless passions, but her greatest was loving people. People gravitated to Jean because she had a way of making every person she met feel loved and special. She brought special touches to her friendships: small gifts that made her think of that person, notes of encouragement on handmade cards, a text or phone call checking in, or dropping off a special treat and providing an ear when the friend didn't even realize they needed that.
She also showed her love for people through her numerous volunteer positions which included but were not limited to: Cazenovia Forum, Community Resources for Independent Seniors (CRIS), Cazenovia Time Bank Advisory Committee, Literacy Volunteers, Pet Visitation at St. Camillus and Loretto, the Eden Alternative, From the Ground Up, GCACC Senior Housing Study Committee, Coalition for Health and Welfare of Syracuse and Onondaga County, and Criminal Justice Committee. Jean joined CRIS at its inception and focused her efforts on senior housing, tirelessly contacting various organizations and companies to solicit interest in building senior housing in the Cazenovia community.
Jean was preceded in death by her mother, Marietta Tanfield, father, Emmett Shirley, husband, Jay Gullo, and best friend, Pat Schramm. She is survived by her life partner, Ken Craig of Cazenovia, NY, sisters, Pat Shirley of Eugene, OR, and Claire Whalen of Owasso, OK, niece, Karey (Ben) Miller of Owasso, OK, nephew, Dan (Samantha) Whalen of Adair, OK, great nieces and nephews, former husband whom she has remained close friends, David Okun, and life-long friend, Gail Clark/Sprog to Jean.
A funeral service will be held on Friday, November 1, 2019 at St. Peter's Episcopal Church located at 10 Mill Street, Cazenovia, NY. Calling hours will take place from 4 PM to 6 PM prior to a service at 6 PM. A reception will be held at the Hampton Inn following the service.
"A memory book is being created. Please send, by October 27th, a written memory, letter to Jean, or any other kind of writing or photo that you would like included to nancyjfarrellesq@gmail.com."
In lieu of flowers, donations can be made to Community Resources for Independent Seniors (CRIS) at https://cris-caz.com. To leave a message of sympathy for Jean's family, please visit www.michaelebrownfuneralservices.com