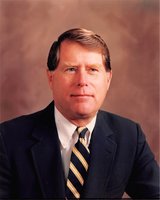 Peter Mitchell
Peter West Mitchell, who left Wall Street in the 1960's to build a country law practice in tiny Cazenovia, NY, and become a force in Central New York's legal and political circles, died early Friday of cancer. He was 84.
Mr. Mitchell was never a judge or an elected official, but he played a central role deciding who filled those positions first as chairman of the Madison County Republican party, and for decades later, as a leading moderate with influence over his colleagues and successors. He served on several judicial nominating committees and, for about three decades, provided legal counsel to a number of jurisdictions, including serving as the attorney for Cazenovia Central Schools and the Town of Sullivan.
A self-described "country lawyer," Mr. Mitchell represented a wide range of clients, from small farmers to townships and multinationals. Much of his work was pro-bono, and he was paid at times in beans, blueberries and maple syrup. But he also helped put together larger business deals, including partnering with companies in Europe to set up significant manufacturing facilities for Pelco Component Technologies, Marquardt Switches and Dielectric Laboratories just outside Cazenovia.
He was also active politically. In addition to recruiting and championing numerous legislative and judicial candidates, Mr. Mitchell allied himself with the moderate Rockefeller wing of the GOP and was a delegate for President Gerald Ford in 1976, when he was being challenged for the nomination by Ronald Reagan.
For more than half a century, Mr. Mitchell's legal practice was a fixture at the heart of the Village of Cazenovia, located for most of that time at 5 Mill Street, right by the village's main stop light. Among his law partners was William F. O'Brien III, a former New York Supreme Court Justice and Madison County district attorney.
Mr. Mitchell was president of the Madison County Bar Association in 1972, and a member of the New York Bar Association's House of Delegates from 1978 to 1981 and from 1988 to 1992. He was also president of the Federation of Bar Associations for the Sixth Judicial District in 1984 and was appointed to the Committee on Professional Standards, Third Judicial Department, from 1985 to 1991 and 2001 to 2008.
Born in New York City, Mr. Mitchell grew up in the New York suburb of Chappaqua, NY, and married his high school sweetheart, Gail Piller, while attending Colgate University. After graduating from Colgate in 1958, he received his law degree from Fordham University and began a career on Wall Street with Donovan Leisure Newton & Irvine. After the birth of two sons, the couple decided they wanted to raise their family in the beauty and open spaces of upstate New York, where they added a daughter to their family in 1971.
Mr. Mitchell is survived by his best friend and wife of 63 years, Gail Piller Mitchell; son Peter K. Mitchell and his wife, Megan Gottemoeller, and their children, Elisabeth W. Mitchell, Alexandra K. Mitchell, Jack F. Mitchell and Kent M. Mitchell; son Jeffrey W. Mitchell and his wife, Carolyn, and their children, Harry Mitchell and Elinor Mitchell; daughter Nancy Mitchell and former son-in-law, Jon Yourkoski and their children, Kaitlyn Yourkoski and Jonathan Yourkoski. Peter was predeceased by brother Jacques Mitchell and is survived by brother David and sister, Holley Eaton, and numerous nieces and nephews.
A memorial service will be held at 11 a.m., Monday, Aug. 19, 2019 at the First Presbyterian Church of Cazenovia, 27 Albany St., Cazenovia. In lieu of flowers, donations can be sent to the Madison County Children's Camp, where Mr. Mitchell served on the board, at P.O. Box 753, Oneida, NY 13421, or to food pantry CazCares at 101 Nelson Street, Cazenovia, NY, 13035. To leave a message of sympathy for the Mitchell family, please visit www.michaelebrownfuneralservices.com